2016 Cavaliers Cricket Player Registration is NOW OPEN!
---
---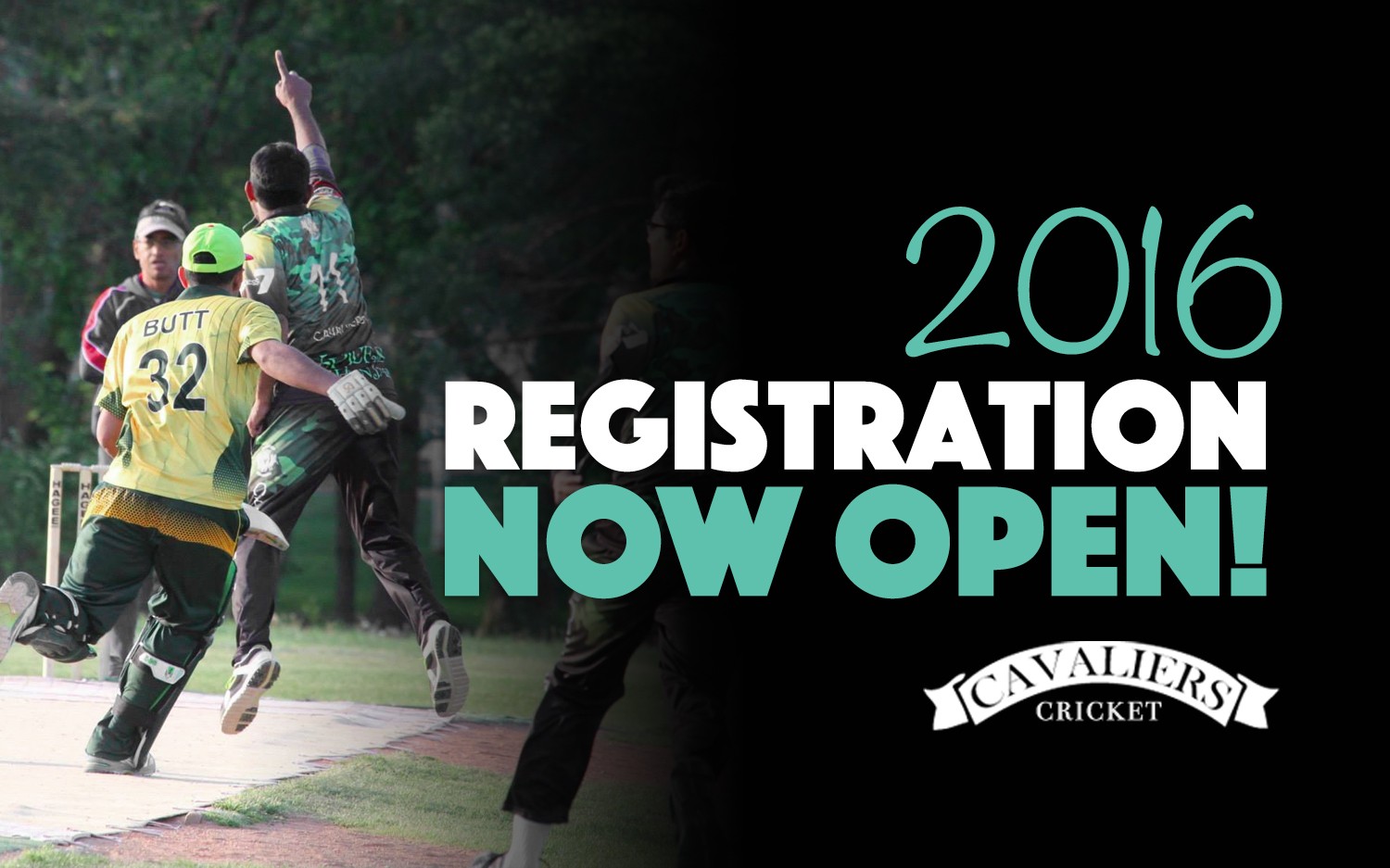 Hear ye! Hear ye! Player registration is now open! Register today to play cricket in Regina this summer with the Cavaliers Sports & Social Club.
Whether you are an existing Cavaliers member, or you want to join Regina's oldest, most diverse and certainly the fastest growing cricket club in the province click here to register online.
We are excited for the 2016 Saskatchewan Cricket Association (SCA) season. It's been a great winter in Saskatchewan and it's possible that we may be able to start outdoor practice sooner than last year. We are assuming you are all as eager as we are, to get out and play some cricket!
We anticipate that our roster will fill up quickly this year, so please don't delay.
Existing Cavs' members (as well as everyone who reached out to us during the past two months), check your email inbox for the "official call to register", which we e-mailed earlier this morning.
We welcome anyone in and around Regina who is interested in playing cricket for the first time (regardless of your age, gender, nationality or skill level) to go ahead and register online.

Don't have your own cricket equipment?
Don't worry, we've got you covered! Our club provides each of our teams with quality cricket equipement. All you need is your own abdominal guard.
Cost
You may choose to play T20 (20 Overs) and ODP (40 Overs) games, or just T20. The cost of your 2016 membership depends on your choice:
T20 & ODP - $200
T20 Only - $150
If you can't pay by February 28th, register anyway and just let us know when you will be able to pay your dues. We're happy to make payment arrangements with you.
How to pay
Pay in person by cash or cheque – Give your payment to Sam, Richard or Saini
Pay in person by credit card - Find Richard
E-mail Transfer – send to
Pay online by credit card - CLICK HERE TO PAY NOW (We prefer this form of payment!)


Not sure if we're the right cricket club for you?
If you want to play cricket in Regina, it is important to find a club that will make you happy and allow you to enjoy the sport you love. Here are a few reasons why you may want to consider joining the Cavaliers this season:
We are the oldest cricket club in the city. We've been around since 1983. Learn more
We are the largest cricket club in the province.
We have three different teams: Fire, Ice & Cosmos, in order to ensure all our members get enough game-time.
We play to win! Our premier team (ICE) is for guys who want to win the league and get seen by national cricket scouts.
We play to have fun. Our two other teams (FIRE & ICE) are stacked with talent, however the focus is more on having fun and developing skills.
We've got members from various different countries: India, Pakistan, South Africa, Austrailia, Jamaica, Canada, Bangladesh, etc. We're multicultural, and we're very proud of it!
We have our own cricket field just outside Regina. Learn more
We like to socialize! Our club is made up of people who like people, and who like to party! We get together for fundraisers, house parties, after games (win or lose) or just to watch international cricket matches together.
We offer a junior cricket program. Learn more
We're expanding to Saskatoon! We recently put out a call for players in Saskatoon and got a overwhelming response. Now we're just working out the details. We'll keep you posted
What are you waiting for? Click here to register!
---