Cavaliers Book Play-off Berth
---
---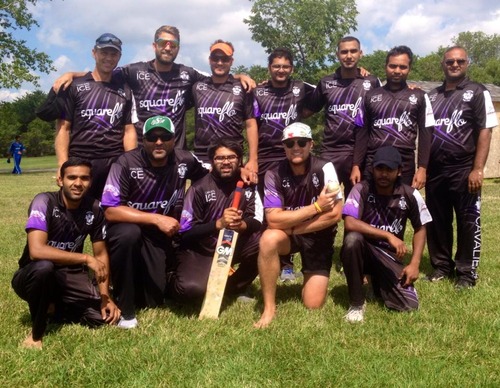 The Cavaliers ODP team booked their place in the Saskatchewan Cricket ODP League play-offs with a comprehensive victory over the Regina Royals Cricket Club. The win was the Cavs' eighth on the trot, meaning the club is still unbeaten in the ODP competition.
The post-season is uncharted territory for the Cavaliers. This will be their first visit to the play-offs in 4 attempts since their re-establishment in 2010. With 3 games remaining in the regular season, the ODP squad will be aiming to enter the post-season undefeated. Their next opponents, the Regina Super Kings, currently lie 10th in the table, and will be hoping to snatch 2 much-needed points off the Cavaliers. The two teams will battle it out at Grassick Park on August 10 at 12:30pm.
Although several players have had magic moments this season, turning games in favour of the Cavaliers, Virendrasinh Chauhan is having a particularly remarkable season. 'Viru' has scored 362 runs with an average of 51.71, and taken 21 wickets at 6.76 giving away less than 3 runs an over. Consequently, he has a very real chance of ending the regular season with over 500 runs and 30 wickets. The Cavs will count on him to carry this form well into the post-season.
Prakhar Shrivastava, captain of the ODP side for the past 4 seasons, believes the Cavaliers are fitter, more motivated, committed and confident than ever before and called the season so far "a dream". "The most pleasing aspect and biggest difference from previous years has been that whenever we have been in a crunch situation, someone has put their hand up", he said. Upon being asked if he expected to be sitting at the top of the table, and already in the play-offs at this stage of the season, he emphasized that the Cavaliers had underachieved in the previous seasons, and as such, was quietly confident of doing well this season - "I had a feeling this year was going to be different. We had a bigger talent pool, some exciting new players and a stable management group running the club".
Finally, we broached the subject of the Cav's chances of taking home the ODP trophy this year, and the response was becoming of a man leading a team at the top of the table, "There is room for improvement, but if we continue to improve each day on the 3 discplines and keep focusing on the basics that have got us here, you'd have to be a brave man to bet against us on September 21st".
---