Cavaliers Fire & ICE top of the log, in both formats, heading into playoffs.
---
---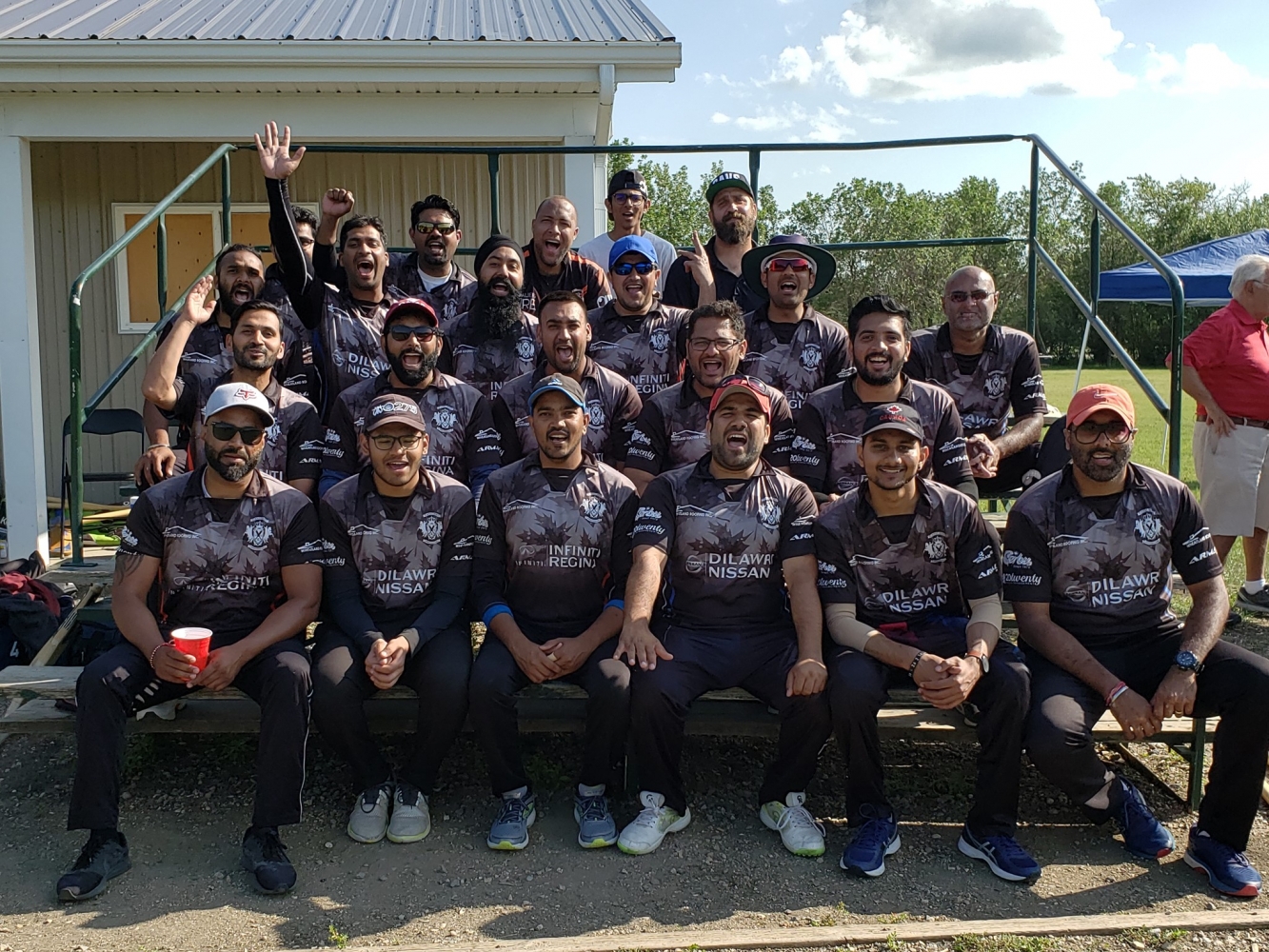 History Beckons, as Cavaliers Fire & ICE establish themselves as the top 2 teams in Regina across formats
On a cool Sunday evening, Cavaliers ICE defeated Strykers in a tightly fought contest to create history for the Cavaliers Sports & Social Club establishing ICE & Fire as the NO.1 & No. 2 teams in Regina. On the back of a century of great maturity by Rehan Butt, ICE posted a competitive 226. Strykers lost a flurry of early wickets but their lower order kept them in the hunt before running out of steam against a disciplined ICE bowling attack falling short by 40 runs. With this win, Cavaliers ICE topped the One Day League followed at the second position by Cavaliers FIRE. Both teams now get a bye and have qualified to the Semi-Finals starting on August 31st.
In the other weekend, game FIRE demolished Falcons in a one-sided contest after Chintan Patel set up a tall chase during the course of a brutal 142, the highest individual score for a Cavaliers batsman. FIRE topped the group stage in their division. ICE had previously qualified as league toppers in their division.
This is the first time in the history of Cavaliers that all Cavaliers teams have established themselves at the top of the tree after the league games; with a Cavaliers clean sweep a real possibility. Cavaliers rebranded their teams as FIRE & ICE and launched a second team in 2012.
Cavaliers Coach and T20 captain was ecstatic after the result - "No words can describe my happiness of how I feel for this achievement", "It has been a very log tough path to reach this milestone", Singh added.
Cavaliers have been dominating the individual performances in the one day league with the top 3 one day batsmen being Simran, Chintan & Rehan, with Jaco (No. 6) also finding a spot in the top 10. Tanveer Paul is currently the leading wicket-taker. Simran Dosanjh and Rehan Butt tussling for the MVP with only 5 points separating the two. ICE's one day captain Noman Syed feels that "opening batting is something we are lacking some runs". He added, "I believe we have the best talent and combination in our team" when asked about their chances to progress further into the knockout.
In the T20 League Division 2, Fire's Chintan Patel is having a season of a lifetime having amassed 489 runs with 2 centuries. In Division 1, Rushi Patel is 4 runs behind at second place in the T20 run-scorer list, with Rehan Butt(5) and Masud Rehman (7) breaking into the top 10. Noman Syed leads the wickets. FIRE's performance this year does not surprise T20 Captain Tanveer Paul, "Last year we played really well, but couldn't finish games, but after 2-3 games I was confident for this year." Paul was bullish about their prospects this year. "I think 100% we will win the championship". Fire's ODP Captain Saini was less bullish but concurred with Paul's sentiments, "Team is confident of going all the way but we will take one game at a time."
The most exciting aspect of 2019 is Cavaliers introduced 3 new captains, with Noman Syed taking over the reins of ICE One Day team, while Aman Saini and Tanveer Paul took over leadership of the FIRE One Day and T20 teams respectively. The results are a reflection of the strong leadership core and the grooming process that the Cavaliers have established over the years.
Club President Richard Singh is quite happy with how the season has panned out. "It a good feeling. First club ever to have a ranking of 1 and 2 in the province. Guys are relating to the new captains. And the entire club is happy with how they have been performing. The results are there."
When quizzed about who will be supporting if there is an all Cavaliers Final, Singh was diplomatic "In the end, Cavaliers will win, so I will be happy"
---