Cavaliers kick-off ODP cricket season with big win!
---
---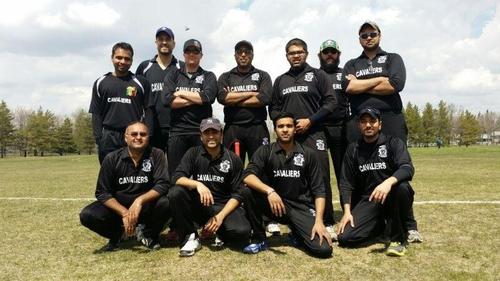 The Cavaliers Club kicked off their ODP season in great fashion with a 10-wicket victory over Midway CC at Douglas Park on Saturday, May 17th.
Cavs skipper Prakhar Shrivastava lost the toss, and Midway chose to bat first. It was the perfect start for the Cavs as they ran out a Midway opener in the very first over after some good work by Shrivastava at point and nifty glove work by keeper, James Friedrich. Virender Chauhan and Vaibhav Rai bowled tight opening spells which yielded a total of 5 wickets. Chauhan had a batsman caught behind, as he tried to drive a rising delivery, while Rai bowled another batsman who misjudged the line of an arm ball.
Midway's Asif Zaman provided some resistance with a dogged 14 off 53 balls before he was bowled by a Amandeep Saini delivery that kept low. No other batsman got to double figures. Juris Graney made quick work of two tail-enders with full and straight deliveries that rattled the stumps. Richard Singh finished off the Midway innings when he got Adeel Shaikh stumped.
The Cavaliers sent out a relatively new opening combination when Virender Chauhan and TJ Singh went out to bat. It was a confident start to the innings as Chauhan pulled the first ball over fine-leg for six. Chauhan was in no mood to hang around as he smashed 43* off 29 balls with 7 fours and 1 six. Singh provided able company with 11* off 13 balls. Chauhan and Singh both had a let-off when they mis-hit shots trying to get over the in-field. However, it was not Midway's day as the Cavs romped to a well-deserved 10-wicket victory.
---