Cavaliers ready to defend championship in 2018
---
---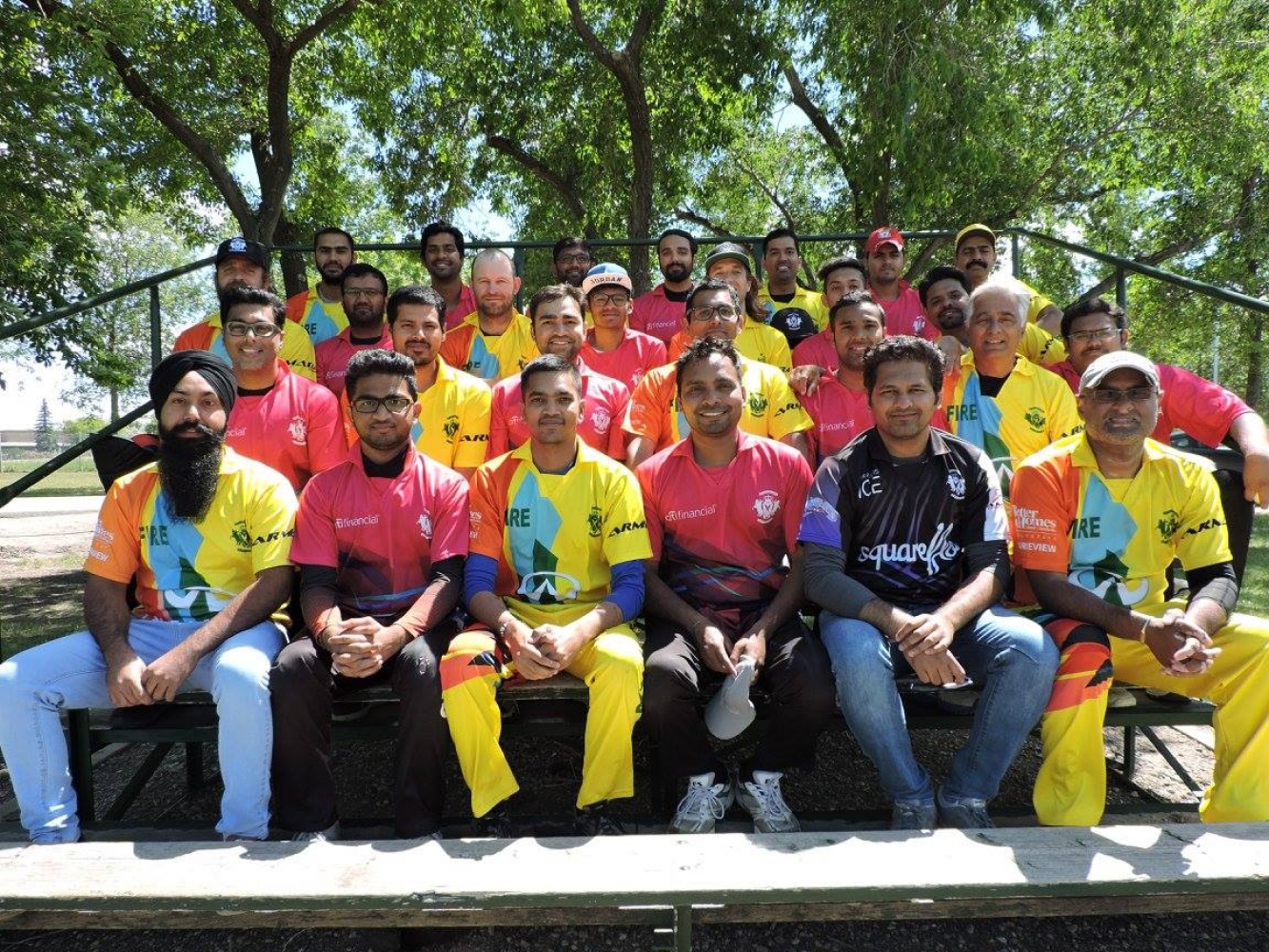 After a long winter the 2018 Regina Cricket League gets underway with a pre-season Super 6 Tournament this weekend and the regular season beginning on May 12th.
The 2018 season kicks off with Cavaliers Fire taking on Regina Royals in a T20 game on Saturday 9AM at Grassick Park. Last year's T20 champions – Cavaliers ICE start their defense of their title against Regina Armours at 1PM after the Fire game.
2018 marks 35 years since the inception of Cavaliers Sports & Social Club as the club has grown from 11 guys drinking beer and playing in whites to over 40 guys, 2 teams, 1 champion, showing off the redesigned Cavaliers 2018 Gear.
After a successful Spring Fundraiser and with the new ground scheduled to be in operation mid June, we look forward to an exciting 2018!
Saying Goodbye:
Darshak Patel, the Rookie of the year in 2017, moved from Regina and is lighting up the leaderboards in Alberta!
Cavaliers beloved Sam Tatla said goodbye to Regina leaving a 6'3" size hole behind the stumps for FIRE.
Vimal "Bhai" Patel has decided to strut his Cricket stuff out East rather than the friendly prairies.
Cavaliers will miss them and wish them all the best!
A Big Welcome to:
Sahil Gopani joins Cavaliers as a left arm seamer of some potential. Playing his first season of cricket in Saskatchewan he is expected to be an integral part of the bowling unit for the next few years.
Jigar Shah forms the trio of the left arm battery that is Cavaliers, being the 3rd left-arm seamer in the group. His wrong-footed delivery stride is certain to "wrong foot" some famed batsmen in the league!
Another young recruit in Mit Patel brings his dibbly-dobbly medium pace to the mix to flummox the opposition batsman into submission.
After a 5 year hiatus, Deepraj "Gaziabadi" Kumar returns as a full-time player for Cavaliers.
Cavaliers FIRE 2018 Roster:
Batsman: Raman Jhita, Jaco Van Heerden, Johan Sterenberg, Aman Gill, Rajan Sagar, Param Singh, Naman (Junior)
AllRounders: Marius Greyling, Chintan Patel, Chetan,
Bowlers: Tanveer Paul, Santhosh Veerbhadrappa, Mandeep Singh, Sanket Patel, Jigar Shah, Swetank Swaroop, Shivam Thakkar(Junior), Joe Van Heerden, Mit Patel, Prem Patel(Junior)
Keeper: Prakhar Shrivastava & Deepraj Kumar
ODP & T20 Captain: Prakhar Shrivastava
Cavaliers ICE 2018 Roster:
Batsmen: TJ Singh, Rushi Patel, Jaymin Patel, Harshal Trivedi
AllRounders: Virendra Chauhan, Noman Syed, Dhaval Patel
Bowlers: Herry Himanshu, Chandan Parmar, Masud Rahman, Richard Singh, Aman Saini, Sahil Gopani
Keeper: Radhey Shah & Vraj Shah
ODP Captain: Viru Chauhan Vice-Captain: TJ Singh
T20 Captain: TJ Singh Vice-Captain: Noman Syed
Your 2018/2019 Executives & Committees
Feedback is always welcome and we look forward to a successful 2018!
Directors: Richard Singh (President), Jaco Van Heerden, Aman Saini, Prakhar Shrivastava
Social Committee: Radhey Shah (Chair), Raman Jhita, Chandan Parmar, Chintan Patel
Grounds Committee: TJ Singh (Chair), Noman Syed, Tanveer Paul, Rajan Sagar
---