Cavaliers Rock SCL on Saskatchewan Day
---
---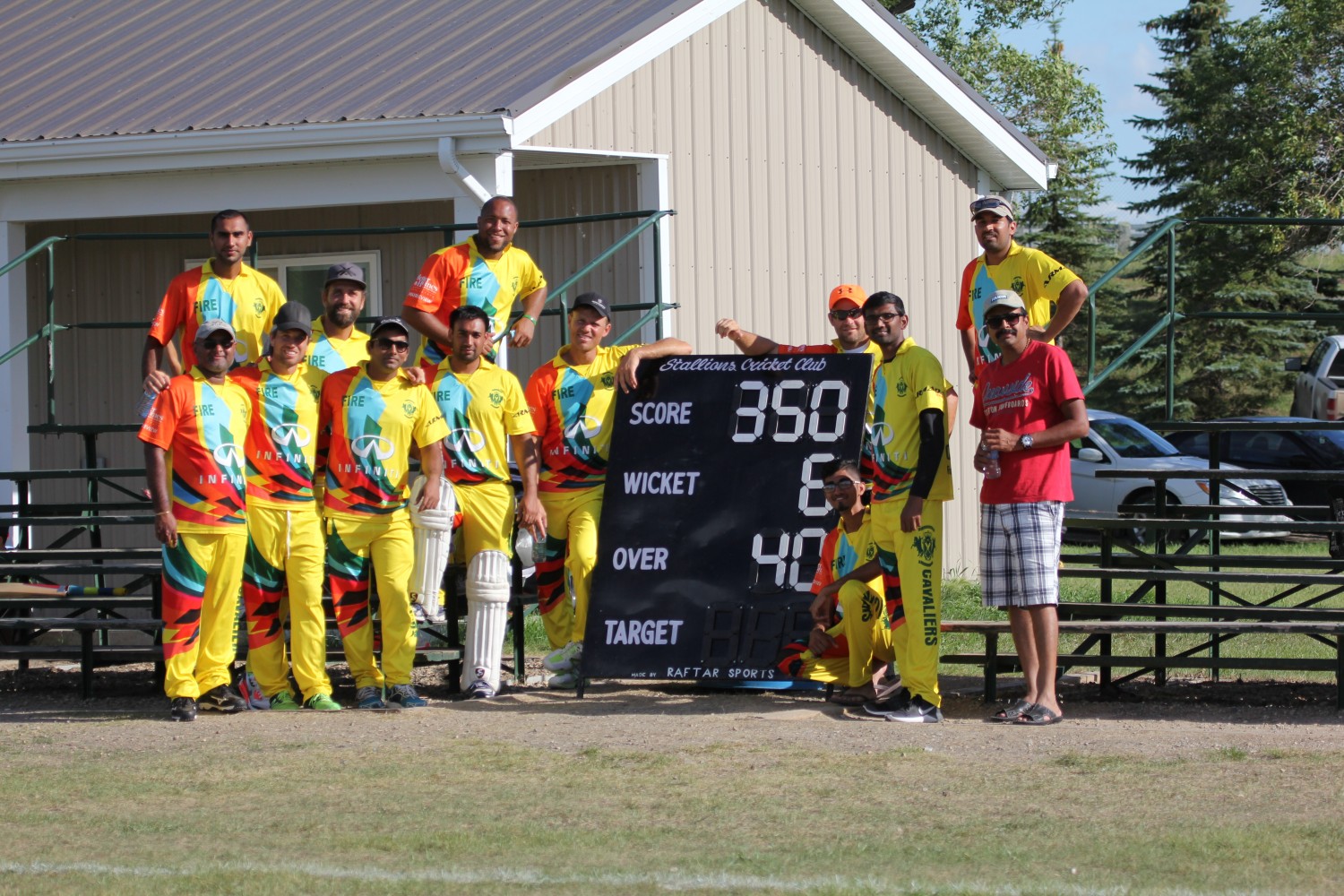 5 Games, 5 Wins, over the long weekend propels Cavaliers' two ODP cricket teams, Fire and Ice to the top of the ODP points tables in their respective divisions.
In their first game, on Saturday morning Ice took on Regina Super Kings (RSK) at Douglas Park. Bowling first, Ice got early wickets to put RSK on the back foot, but RSK's all or nothing approach kept the runs flowing at the relatively small ground. Their middle order piled runs against Ice's spinners with 300 looking likely on the cards at one point.
Disciplined bowling by Ice seamers towards the end restricted RSK to a competitive 253. Darshak Patel & Dhaval Patel were the key architects of the recovery snapping 5 wickets between them. Ice plotted their chase to perfection, with skipper Virendrasinh "Viru" Chauhan playing a cool-as-ice captain's knock to control the chase as he ended with 79, missing a well deserved century. Dhaval then took center stage and finished the job with a combination of sharp singles and big hits over his favorite midwicket area. Darshak, Noman Ul Haq & Masudur Rahman made key contributions as they never allowed RSK into the game. Dhaval who made 74, finished the game with a huge Six of RSK's best bowler, Amolak Singh, as Ice won with 7 balls to spare.
Concurrently, at Grassick Park, Fire played United. A captain's performance by Richard Singh and ably supported by Marius Greyling restricted United to a healthy 199. Between the two, they bowled 16 overs on the trot giving away a paltry 36 runs severely hurting United's chances of getting to a tall total, as the other bowlers around them were struggling. Fire got off to a poor start in the chase loosing 2 wickets inside the first 3 overs, but Greyling dominated the chase through the middle to put Fire back on track. A smart cameo by Jermain McKenzie ensured there were no further hiccups in the chase and Fire won with 5 overs to spare.
On Sunday morning, Fire faced off against Titans, a team they were expected to beat. Batting first, Titans could only muster a meager 157 against a disciplined Fire attack; Richard Singh, again being the pick of the bowlers getting 4 wickets for 29 runs. Joe Heerden, who had a good day with the ball earlier, was promoted to open the innings with the regular opener Ahmed Hussain. Together they got the chase on course with Fire's first opening 50 runs partnership, knocking off 80 runs in the first 15 overs. Johan Sterrenberg then bludgeoned his way to a 50 hitting 6 massive sixes as Fire won with 8 wickets.
On Monday, Saskatchewan Day, Ice took on Sloggers at Grassick Park in the morning in a one-sided game. Sloggers never got off the blocks thanks to Ice bowlers, especially Noman who bowled 7 overs for 8 runs. Darshak Patel and Chintan Patel chipped in with 3 wickets apiece as only one Slogger's batsman got into double figures. The next highest score was extras with 23. Chasing 85 to win, Ice cantered to a victory in 14 overs for the loss of 3 wickets.
Meanwhile at Douglas Park, Fire and Rangers played the games of their lives. Fire won the toss and batting first put on 350 in their allotted 40 overs - the highest score by a Cavaliers team. Ahmed Hussain got to his maiden 50, and Johan Sterrenberg scored a second consecutive half century to put Fire on track to a big total. Marius Greyling then piled on the misery, missing a century for the second time by 3 runs. He found an able ally in Jermain McKenzie (47) as the tempo never slowed. Fire ended their innings on the back of a brutal knock by Amandeep Gill who made 36 in only 16 balls.
Ranger's batsman set themselves up for the chase and attacked everything within their range. Flowing boundaries put the Fire bowlers under immense pressure. In a batting shootout, with Ranger needing 17 in the final over, McKenzie held his nerve to bowl a smart final over and deliver Fire a famous victory on Saskatchewan Day!
The weekend games have put Ice firmly on their way to a semi final spot. While their bowling has stayed impressive throughout, the batting pieces are beginning to fall in place. Ice would want more from their fielders as dropped catches was a regular feature over the weekend. With 3 first choice players not available this weekend, Ice has rung the warning bells for the other teams early.
Fire is on course for promotion to Division 1. Marius Greyling has breezed his way to the top of the run scorers with fellow South African, Johan Sterrenberg, hot on his heals. They are ranked 1 and 2 on the MVP list as well. Skipper Richard Singh holds the most wickets so far in their division. Fire's batting looks dominant, but they would not want their bowling to blow hot and cold this frequently. Fielding remains effective.
For the Cavaliers, the job is only half done and there is still some cricket left in the league. For the next few weeks, the focus now shifts to the T20 for Fire. Ice will continue to build on the one day success of this weekend.
---