Cavaliers Romp into ODP Finals with big win
---
---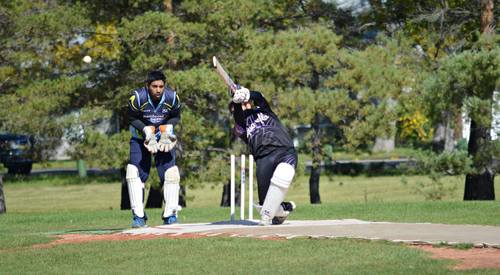 A dominant all-round display by the Cavaliers lifted them into the finals of the Saskatchewan Cricket League (ODP) for the first time, after defeating Knight Riders in their semi-final encounter held in Regina on September 20.
The Cavaliers scored 263 in their allotted 40 overs and cruised to a 116-run victory. Cavaliers' score was built on the back of a 138-run second wicket partnership between Vaibhav Rai and TJ Singh. A spirited cameo by Dhaval Patel and some lusty hitting by Santhosh Kumar towards the end propelled the Cavaliers to an intimidating total.
Earlier, Knight Riders won the toss and decided to bowl first in cool and breezy conditions at Douglas Park. Knight Riders' opening bowlers maintained tight lines and got the big wicket of Cavaliers' in-form opener, Virendrasinh Chauhan, early with an efficient display of swing bowling. Rai and Singh then put on a masterclass of mature batting and pushed the score along. Singh revealed that the partnership went exactly to plan, "First thing I thought about (after Chauhan got out cheaply) was damage control. So, Rai and I decided to put a price on our wickets for the next 10 overs and play down till we get any weak balls to hit outside the park." The score was at 54 at the end of the 15th over when both batsmen shifted gears, as 46 came in the next 5 overs to prop the Cavaliers up to 100 in 20 overs at the drinks break. There was a mini-wobble mid innings as TJ, Rai and Marius Greyling got out in quick succession with Cavaliers at 179 with 10 overs to go. There was a sting in the Cavs' lower order however as Dhaval Patel ensured that the strong start was not wasted as he clobbered 49 in 29 balls as 84 runs were scored in the last 10 overs. Kalsi was the most successful Knight Riders bowler with 3 wickets.
Knight Riders innings kicked off in blazing fashion as Manjit Bahia hit 42 off 27 balls with 5 sixes before Greyling sent him back with a peach of a delivery. Cavs' leg spinner Masud Rahman bowled his 8 overs on the trot in a tight spell as he choked one end up. With the confident opening partnership now broken, the Knight Riders could not string together another significant partnership for the remainder of their innings with the asking rate climbing. Pooni held one end up, but none of the other batsman got starts. The spinners bowled 20 of the 28 overs as they tightened the screws, bundling out the Knight Riders for 147. Amandeep Saini cleaned up the lower order with figures of 5/27 .
Cavaliers skipper, Prakhar Shrivastava, was candid in his response when asked if he was surprised by the significant margin of victory - "A little bit. I was expecting the game to be a little tighter than that. Credit to the bowlers, especially the spinners, who bowled really well." He emphasized the importance of staying "focused and grounded" leading up to the final, which the Cavaliers have been looking forward to a lot longer than people might expect. "We (the club) have had this vision for 5 years now, since the Cavaliers were re-established, and it will be absolutely phenomenal to have the chance to complete the cycle on our vision."
The fact that this is the Cavaliers' first appearance in the final did not appear to faze either Shrivastava or Singh. When asked about the final, Singh summed it up succinctly, "It will be a competitive game. Also, it is a pressure game so whichever side handles the pressure well, will perform better."
Related Photos
---