First Junior Cricket Academy a Success!
---
---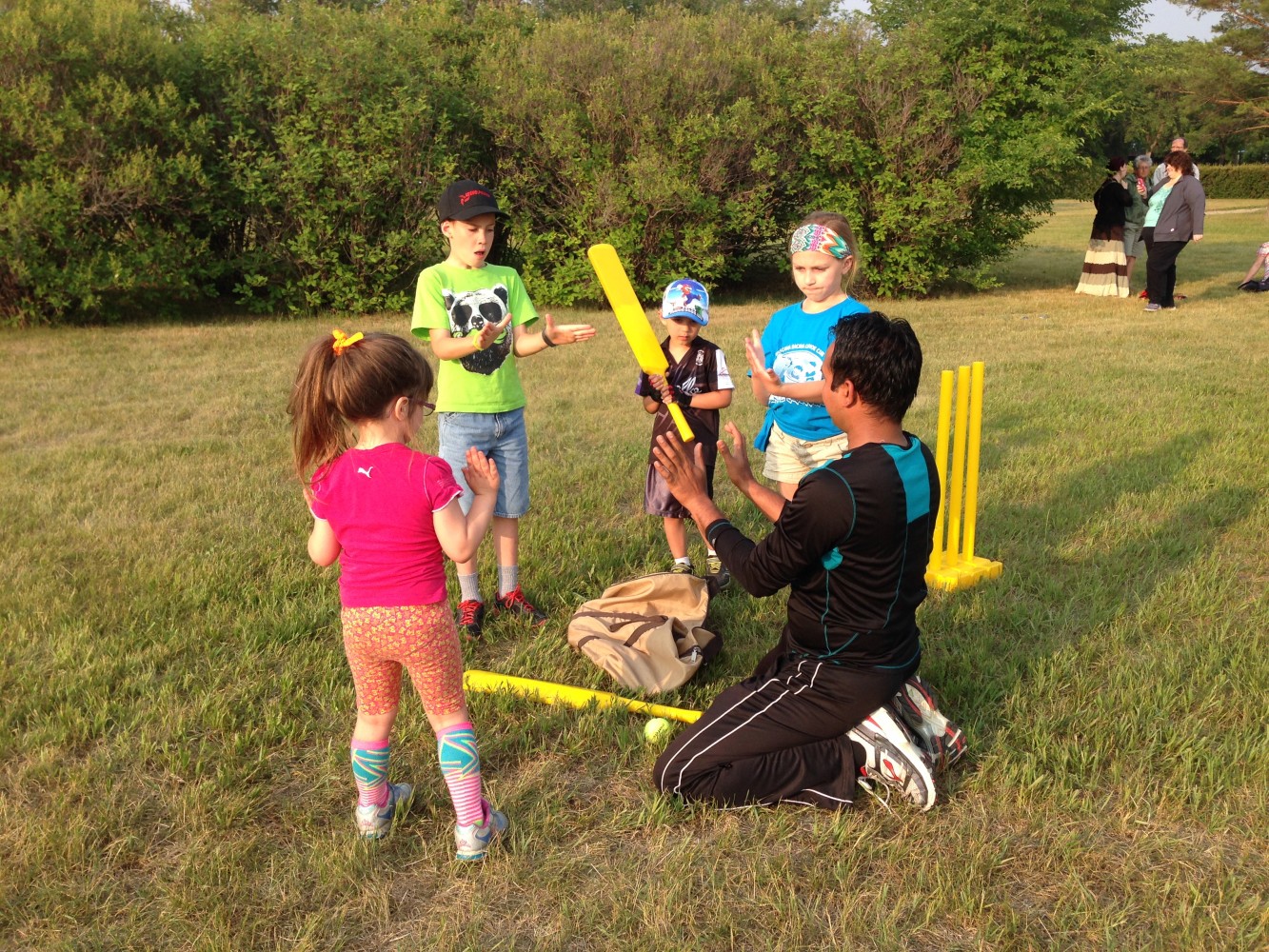 Another season of cricket has passed, but this year was different for the Cavaliers Sports & Social Club. Not only did we grow our membership with new players, but we introduced a Junior Program sponsored by SaskTel.
SaskTel Junior Cricket Academy was designed to teach kids in Regina cricket basics. Entry level skills, as well as the importance of teamwork and social interaction amongst players, were major focuses of the program.
The program was open to children, 7-14 years of age and was free of charge. Sessions were held every Monday evening from July until the end of August. We had an average of approximately 25 children at each session, which was a great success. We even had to call in more coaches to ensure each participant was getting enough attention.
Special thanks to Viru and TJ for attending and instructing each and every week. We would also like to thank Santhosh, Noman, Dhaval, Prakhar, Chintan, and Amit for contributing their time to help out when needed. (My apologies if anyone was missed, all participation was greatly appreciated.)
Click here to view more photos
We plan to continue with the Junior Academy program in 2016 and it will be divided into two age groups.
Details are as follows:
Children between 7-14 years of age are scheduled to begin outdoor practice in June and will be continuing on throughout the summer. Depending on whether a location can be secured, we may also host an indoor program for ages 7-14 beginning in January. This will be advertised if it becomes available.
Participants of the 15-19 age group, are scheduled to start indoor practices in January at the South Leisure Center. This older age group will also be continuing on with outdoor practices, beginning in May.
The outdoor practice locations for both age groups will be determined in early spring of 2016.
We also plan to hold demonstrations at local elementary schools this winter, during scheduled gym classes. Each child will receive an information sheet to take home, if they are interested in registering.
Parents are always welcome to inquire directly for more details, by emailing the club at
Lastly, a big thank-you to all of the members and to the parents who signed up their kids this past year. It was a lot of fun and a great experience. See you all in 2016.
- Richard Singh (Club President)
---