Know Your Team-mate No. 1 - Santhosh Kumar
---
---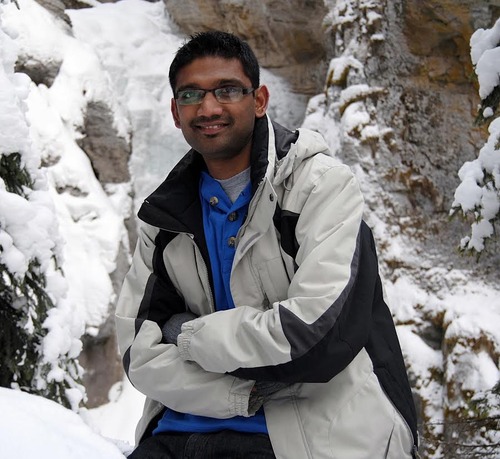 Greetings fellow cricketers! Welcome to the first edition of Know Your Team-mate, a new bi-weekly blog post that will feature one of the Cavaliers. Ever wondered why Prakhar injures his groin all the time, why James wears pink shoes or why TJ makes us do bollywood dance moves in the name of stretching?! Well, this is the blog post for you. Slowly, but surely, all will be revealed.
This week, we feature Santhosh Kumar, our lanky new ball bowler that keeps opposition batsmen in check with his natural pace and bounce. However, there is more to this chap than seam position and lusty lower order hits! Check out his answers to our questions below:
Where are you from?
I'm from a small town called Tumkur near Bangalore in Southern India.
When did you first start playing cricket?
My dad gifted me a plastic bat and ball when I was 4 or 5 years old! Since then I've been playing cricket, of all kinds, right from gully cricket to university cricket and now playing for Cavaliers.
What is your favourite aspect of the sport?
I've been associated with cricket for the most part of my life and I absolutely love everything about cricket. It makes me feel alive and keeps me active.
What has been your most memorable personal Cavaliers moment so far?
So far I haven't had any major success with bat or ball for Cavaliers yet but winning the practice match against Ice by just one run was amazing.
What do you enjoy doing when you're not playing cricket?
I love to watch documentaries, read books, enjoy long drives, and I love photography too.
What is your favourite food?
I like veg biryani with raita, dosa and idli.
Who is your favourite cricketer?
Rahul Dravid and Sachin Tendulkar.
What do you like most about being a part of the Cavaliers?
Very friendly people, professional attitude and good team spirit.
The views presented by the individual members are their own and are not a representation of the Club's views on issues.
---